Description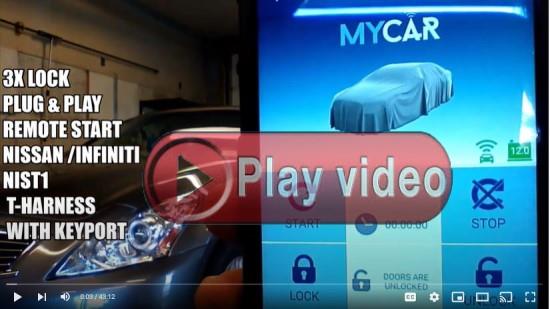 CUT AND PASTE IN BROWSER IF LINK DOES NOT OPEN
https://youtu.be/f4K2CIAayRg

COMPATIBLE WITH PUSH TO START VEHICLES ONLY:

Remote Starter activates from existing Factory (OEM) Remote.

Press the lock button on the OEM Remote 3 times to activate remote start function  
Fully assembled remove from box and plug in remote car start kit
(Assembled product takes the hassle out of installation)

Easy installation, all parts included, plugs directly into vehicle for a  PLUG & PLAY install.
(Requires 1 Easy connection at Push-To-Start Button)


Module Flash Programming and T-Harness configuration included.
No programmer required.
 No special tools or dealer programming required.

Kit includes Wire Ties and Posi-Tap connectors 
(Instruction guide and installation support included).
UPGRADABLE TO FORTIN 2-WAY REMOTES OR MyCar SMART-PHONE CONTROL
OPTIONAL CONNECTIONS:
PARKING LIGHT (BUILT IN RELAY FOR +12 VOLT PARKING LIGHTS)
AUTO LAMP SHUTDOWN (CONNECTS TO DRIVER DOORPIN TO SHUTDOWN PARKING LIGHTS ON REMOTE START ABORT)
SAFETY OVERRIDE INPUT (TOGGLE SWITCH INCLUDED WHEN CONNECTED TO GROUND REMOTE STARTING IS DISABLED)
PROFESSIONALLY ASSEMBLED WITH HIGH QUALITY PARTS