2002-2007 JEEP LIBERTY REMOTE START & KEYLESS ENTRY
2002-2007 JEEP LIBERTY REMOTE START & KEYLESS ENTRY
2002-2007 JEEP LIBERTY REMOTE START & KEYLESS ENTRY
Compatible with and configured for 2002-2007
JEEP LIBERTY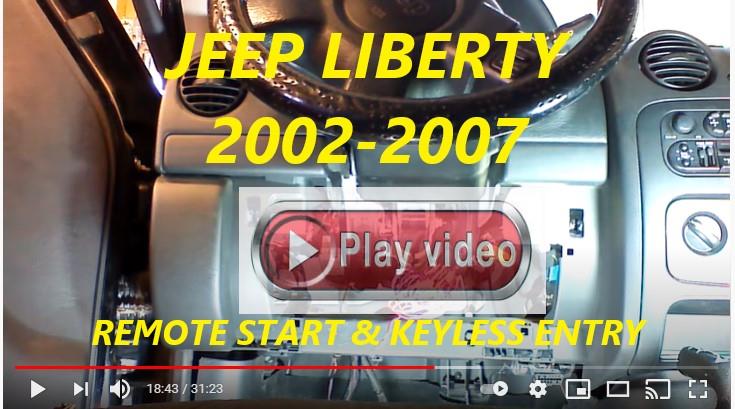 TROUBLE WITH THE LINK? CUT AND PASTE:
https://youtu.be/FwvVpJf8hKI

AUTOMATIC TRANSMISSION COMPATIBLE ONLY.

VEHICLE MUST HAVE OEM POWER LOCKS & ELECTRIC HATCH RELEASE.
INCLUDES:
​PRE-CONFIGURED WIRING HARNESS
PROGRAMMED AND CONFIGURED CRIMESTOPPER RS4 G5
FLASH PROGRAMMED & CONFIGURED ALCA
VIDEO INSTRUCTIONS (PLEASE VIEW BEFORE  PURCHASE)
ZIP TIES​
INSTALLATION SUPPORT BY TEXT
 
REQUIRED CONNECTIONS:
RS4 PRIMARY CONNECTIONS:
12 VOLT X 2
IGNITION 1
ACCESSORY 1
STARTER
RS4 SECONDARY CONNECTIONS:
CHASSIS GROUND (REQUIRED)
+ BRAKE SIGNAL (REQUIRED)
- PARKING LIGHT (OPTIONAL)
- HORN SIGNAL (OPTIONAL)
AL/CA CONNECTIONS:
BLACK KEY:
J1850 WIRE AT DIAGNOSTIC PLUG
ANALOG LOCK WIRE
GREY KEY:
J1850 AT IMMO CONNECTOR
IGNITION INTERUPTION AT THE IMMO PLUG
3X LOCK RELAY
DOOR LOCK MOTOR 
CHASSIS GROUND


The CrimeStopper RS4-G5 is our remote start with keyless entry, including trunk release that offers up to 2000 ft. of range. The remotes have 5 buttons with Lock, Unlock, Start, Trunk Release and Multi-vehicle. This is the perfect system who needs that longer range or wants a remote start and the ability to replace the OEM remote with all the features this system offers.
(2) 5 button transmitters with 2000 ft of range

2-way data port for integration module connection

Keyless entry

Trunk release

Multi-vehicle functionality

Horn honk confirmation

Programmable engine sense, Tach, Tachless, Hybrid modes

Gas, diesel and hybrid compatibility

31 programmable options
OVERVIEW
The CrimeStopper RS4-G5 is our remote start with keyless entry and trunk release. This system offers the ability to start, stop, lock, unlock, release the trunk or open a sliding door from up to 2000 ft. away. 

This system also offers multi-vehicle operation, what this does is allows you to control up to 2 different vehicles with 1 remote as long as they have the same CrimeStopper remote start system installed. This system offers a 2-way data port for both our OFA (ADS) and Fortin integration modules. It is designed to work with gas, diesel or hybrid engines as offering a programmable tach, tachless or hybrid tachless connections. 

The 31 programmable features will allow this system to work on most any vehicle you have. This system also offers positive and negative ignition, accessory and starter outputs allowing you the flexibility to work on the vehicles of today as well as yesterday.
Manufacturer P/N: RS4G5